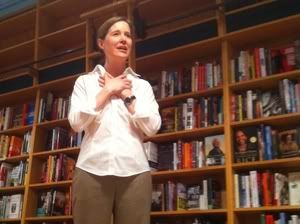 Patrik Ward

/

Parnassus Books
Another great indie stop for
Shop Small Saturday
! Oh, how I wish I lived closer to Nashville...
Bestselling author Ann Patchett has opened an indie bookstore in Nashville. In an interview with
NPR's Melissa Block
, she says she considers Parnassus Books her gift to the city. Of the name, Patchett says, "is that mountain in Greece where literature and music and poetry were born. We are the Athens of the South here in Nashville - we have a full-size replica of the Parthenon. And so we wanted to part of that great tradition of our city."
She co-owns the shop with publishing veteran Karen Hayes, whom she credits with doing the back-breaking work.Patchett says she brought the money and her fame to the endeavor; Hayes brought her knowledge of the business. Hayes brings her experience as a Random House sales rep and work with the wholesaler Ingram Book Company.
While on her book tour for
State of Wonder
,
released this past summer
, she was garnering advice from bookstore owners all across the country. She says the best advice she got was to put the children's section in the farthest back corner of the store, so if the kids run away and make a break for it, you have plenty of time to catch them before they get out the front door. Other advice she received was to hang signs from the ceiling, and customers will buy whatever is advertised on them. She was advised to make her store comforting and inclusive, smart but not snobby.
Here's her interview on CBS's the early show:
3900 Hillsboro Pike, Suite 14
Nashville, TN 37215
615-953-2243
Monday-Saturday 10:00 - 8:00
Sunday 12:00 - 5:00
Have a fantastic weekend.
Talk to you soon,
Angela