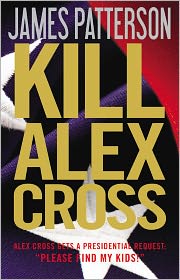 Barnes and Noble and James Patterson have teamed up to offer a fantastic in-store (only) special. If you buy
Kill Alex Cross
in hardcover and ANY other book by James Patterson, in any format, you will receive a copy of Patterson's novella
Merry Christmas, Alex Cross
(Nook or Print version) FREE.
Merry Christmas, Alex
Cross
is exclusive to Barnes and Noble and is not available for stand-alone purchase.
Barnes & Noble's state-of-the art cashiering system will allow retail customers to seamlessly combine a NOOK Book purchase with the purchase of the new hardcover title in-store, and leave with the authorization codes to download their digital purchase, as well as the digital version of the free, exclusive novella on any of their NOOK™ devices.
I spoke with my local Barnes and Noble bookseller to verify the details, and there is no expiration date. The special is good while supplies last.
Kill Alex Cross
was released last week and is #18 in Patterson's Alex Cross thriller series. Alex Cross is a homicide detective with a Ph.D. in psychology. Cross works and lives in the ghetto of D.C. He's a tough guy who wears Harris Tweed jackets and likes to relax by banging out Gershwin tunes on his baby grand piano. He has two kids who are his own special vulnerabilities.
Read the first 27 chapters of Kill Alex Cross.
Books in the series:
Along Came a Spider
(1992)
Life changes for Deputy Chief of Detectives Alex Cross when he is drawn into a high-profile case. Two nine-year-old children are kidnapped by a teacher, Gary Soneji, from the prestigious Washington Day School. Maggie Rose Dunne is the daughter of an actress, and Michael "Shrimpie" Goldberg is the son of the Secretary of Treasury. A ransom of $10 million is demanded.
Kiss the Girls
(1994)
Alex Cross matches wits with Casanova and The Gentlemen Caller. This time it is personal. Naomi Cross, twenty-two-year-old daughter of Cross's deceased brother Aaron, is reported missing. She is a law student at Duke University. Cross goes to North Carolina, fearing the worst.
Jack and Jill
(1996)
A game of Life and Death. Sam Harrison (Jack) and Sara Rosen (Jill) delight in their board game that has photos of famous people; a simple roll of the dice determines their destiny. When sixty-four-year-old Senator Daniel Fitzpatrick is found murdered, the FBI makes a formal request for Cross. The FBI is stymied. The code name for President Thomas Byrnes is Jack. The First Lady's is Jill.
Cat and Mouse
(1997)
A killer named Mr. Smith begins his murder spree in Cambridge, Massachusetts, and then starts terrorizing Europe. Bodies are found "gutted." At the same time Gary Soneji taunts Cross with murders in train stations.
Pop! Goes the Weasel
(1999)
Geoffrey Shafer, the Weasel, works in Intelligence in the British Embassy in D.C. He and three twisted friends play a Game of Death that involves unsuspecting women around the world.
Roses are Red
(2000)
Meet The Mastermind. He's the man behind bank robberies and the murder of bank employees committed in Virginia and Maryland. Then a tour bus is hijacked in D.C. and a $30 million ransom demanded. Cross and an FBI team have less than two hours to deliver.
Violets are Blue
(2001)
A string of gruesome murders points to a vampire subculture in the United States. Cross flies to San Francisco to meet with Inspector Jamilla Hughes, Homicide. They compile a list of unsolved vampire murders going back at least eleven years.
Four Blind Mice
(2002)
The Bluelady Murders occur at Fort Bragg, North Carolina. Army wives are killed and their bodies painted blue. John Sampson asks Cross to talk to his friend and mentor, Sergeant Ellis Cooper, who has been convicted of the murders but swears he is innocent.."
The Big Bad Wolf
(2003)
Zamochit means "the breaking of bones." It is part of a murder ritual practiced by members of the Red Mafiya. The "impossible" murder of an Italian godfather in the high-security, supermax prison in Florence, Colorado, is just the beginning.
London Bridges
(2004)
Geoffrey Shafer, the Weasel, is found and abducted from Salvador, Brazil. The notorious Wolf then sends him on a mission. His first job is to completely wipe out an American town-Sunrise Valley, Nevada. And once again, that is just the beginning.
Mary Mary
(2005)
Hollywood's most famous stars are being murdered one by one. The killer is known only as Mary Smith. Is Mary really a woman? Or just someone playing the part? With the LAPD and FBI clueless, it's up to Alex Cross to track down the truth…
Cross
(2006)
Among the villains Alex Cross has faced—Gary Soneji, Casanova, The Mastermind, The Wolf—one psychopath tops them all. Alex knows him as his wife's killer. Alex may have a chance to catch his wife's murderer after all these years. Is this a chance for justice at long last? Or the culminating scene in his own deadly obsession?
Double Cross
(2007)
Alex Cross rejoins the DC Police Force to confront two of the most diabolical killers he's ever encountered, a psychotic killer who craves an audience and a murdering mastermind who works alone. Both want Alex dead, and they'll to do anything to get what they want, even if it means plotting together...
Cross Country
(2008)
In over a decade of police work, it is the worst murder scene Alex Cross has ever seen. A family has been butchered in their home. And more killings follow. One after the other. Each more gruesome than the last. The only lead is an elusive trail left by a diabolical African warlord know only as The Tiger. It leads Alex Cross into the dark underbelly of Washington DC and beyond, into a true heart of darkness in Africa herself.
Alex Cross's Trial
(2009) with Richard DiLallo
The year is 1906, and America is segregated. Hatred and discrimination plague the streets, the classroom, and the courts. But in Washington, D.C., Ben Corbett, a smart and courageous lawyer, makes it his mission to confront injustice at every turn. He represents those who nobody else dares defend, merely because of the color of their skin. When President Roosevelt, under whom Ben served in the Spanish-American war, asks Ben to investigate rumors of the resurgence of the Ku Klux Klan in his hometown in Mississippi, he cannot refuse.

The details of Ben's harrowing story -- and his experiences with a remarkable man named Abraham Cross -- were passed from generation to generation, until they were finally recounted to Alex Cross by his grandmother, Nana Mama. From the first time he heard the story, Alex was unable to forget the unimaginable events Ben witnessed in Eudora and pledged to tell it to the world. Alex Cross's Trial is unlike any story Patterson has ever told, but offers the astounding action and breakneck speed of any Alex Cross novel.
I, Alex Cross
(2009)
Detective Alex Cross is pulled out of a family celebration and given the awful news that a beloved relative has been found brutally murdered. Alex vows to hunt down the killer, and soon learns that she was mixed up in one of Washington's wildest scenes. And she was not this killer's only victim.
Cross Fire
(2010)
Detective Alex Cross and Bree's wedding plans are put on hold when Alex is called to the scene of the perfectly executed assassination of two of Washington D.C.'s most corrupt: a dirty congressmen and an underhanded lobbyist. Next, the elusive gunman begins picking off other crooked politicians, sparking a blaze of theories—is the marksman a hero or a vigilante?
Kill Alex Cross
(2011)
The President's son and daughter are abducted, and Detective Alex Cross is one of the first on the scene. But someone very high-up is using the FBI, Secret Service, and CIA to keep him off the case and in the dark.
Alex Cross film adaptations
The series began with
Along Came a Spider
which was also made into a movie starring Morgan Freeman and Monica Potter.
Second in the series is
Kiss the Girls
. Also made into a movie, again starring Morgan Freeman this time with Ashley Judd.
British actor Idris Elba had signed on to star as Alex Cross in the upcoming film adaptation of
Cross
(#12 in the series), but was replaced with American actor Tyler Perry. The film will be directed by Rob Cohen and is slated for release in 2012.
Happy reading,
Angela