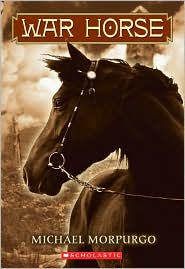 Michael Morpurgo wrote the children's book,
War Horse
in 1982. Set in rural England and Europe in 1914 during WWI, it tells the story of a gentle boy named Albert and his farm horse, Joey. Albert's father sells Joey to the army where he's trained for battle. He wonders if the war will ever end. And if he'll ever see Albert again. Interestingly, the story is written from Joey's point of view.
Mr. Morpurgo and his wife Clare established
Farms for City Children
in 1976 with the primary aim of providing children from inner city areas with experience of the countryside. It was an observation of a visiting little boy that became the inspiration for the role of Joey. The child had a bad stutter and hadn't spoken in school in two years. That was, until he was standing head to head with a horse. He began talking to the horse, just telling him what he'd done on the farm that day. Mr. Morpurgo said, "the horse didn't understand every word, but knew that it was important that she stand there and be there for the child."
Since the book was written, it has been adapted for radio and stage. And on December 28th, the film version will be released in theaters. The movie is directed by the great Steven Spielberg and is described as an epic adventure for audiences of all ages. Here's the trailer:
Michael Morpurgo also has a great website.
Check it out
.
Happy reading,
Angela