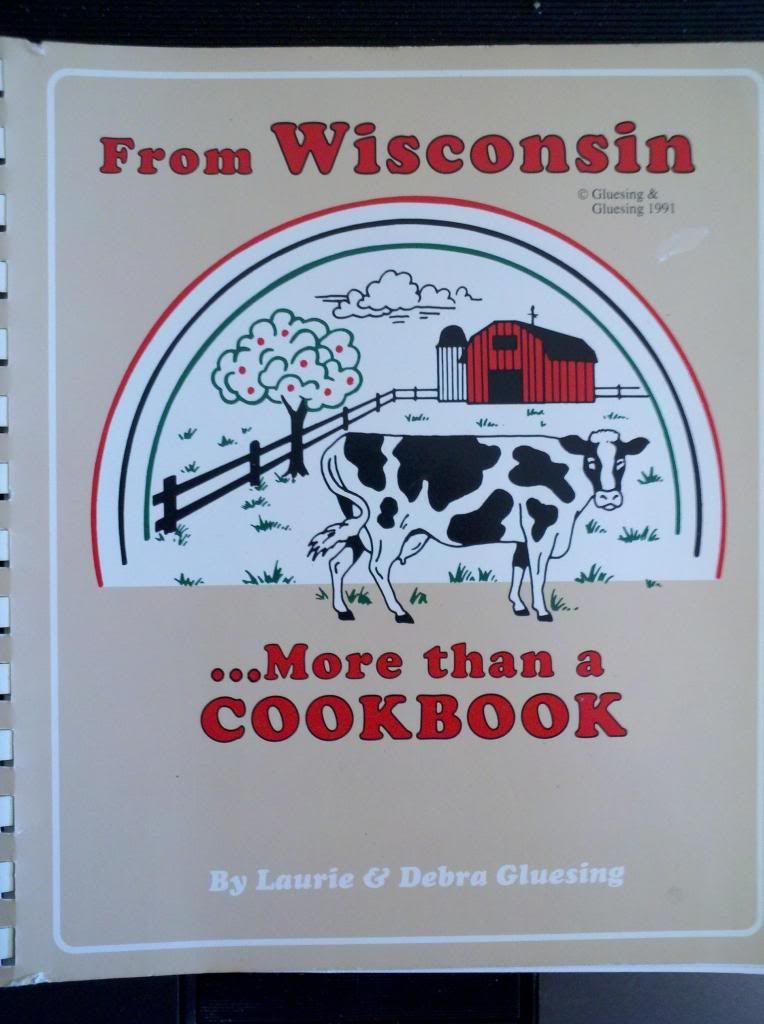 Sisters, Laurie and Debra Gluesing, have written these fantastic cookbooks featuring Wisconsin recipes, history, and folklore. I've spent way too much time looking through them, and loving every second of it. The first was published in 1984, and the second in 1991.
Wisconsin has a diverse ethnic mix. According to page 57, 50 nationalities are represented in Milwaukee alone (that was in 1984 when the book was published).
I'm Norwegian and German from my Dad's side and mostly German with some Native American from my Mom's. So I thought I'd feature recipes from the books that represent my heritage.
I'll start with this recipe for Lefse. Very Norwegian, and another special treat on the same caliber
as Rosettes
. If you're not familiar, lefse is a traditional Norwegian flatbread made from potatoes. They're about as thin as tortillas. My family loves to eat them by spreading them with butter and sprinkling sugar on top of that. You then roll it up...and yum.
Then we move on to Baked German Potato Salad (found on page 83). According to the top of the page, the Germans make up the largest ethnic group in Wisconsin (again, published in 1984, I'm not so sure that still holds true.)
Baked German Potato Salad
from
Recipes from Wisconsin...With Love
1 cup diced bacon
1 cup sliced celery
1 cup chopped onion
3 teaspoons salt
3 Tablespoons flour
2/3 cup sugar
2/3 cup vinegar
1/2 teaspoon pepper
1-1/3 cups water
8 cups cooked, sliced potatoes
Fry bacon; drain on paper toweling. Pour all but 1/4 cup bacon grease from skillet. Add celery, onion, salt, and flour; simmer, stirring constantly. Add sugar, vinegar, pepper and water and bring to a boil. Toss bacon and potatoes together in a 3-quart baking dish; pour hot mixture over potatoes. Cover and bake in 350-degree oven for 30 minutes. Serves 12.
And last but not least, a recipe for Indian Fry Bread.
Indian Fry Bread "Dough Gods"
from
From Wisconsin: More Than a Cookbook
12 cups flour
3 cups lukewarm water
1/4 to 1/2 teaspoon salt
3 teaspoons baking powder
Shortening for frying
Put flour in a 6-quart bowl and push up high along the sides so there is a deep well in the center. Add water combined with salt and baking powder, pouring it into the prepared well. Mix with a spoon until the dough will not absorb any more flour. Knead well in the bowl. Let stand 1 hour. Heat shortening in a large frying pan until very hot, but not smoking. With a knife, cut a piece of dough about the size of a small fist, and with floured hands, stretch it out flat. Drop into hot shortening. Brown both sides, turning once.
What are some of your favorite family recipes? Please share.
Hope you're having a nice, relaxing Sunday,
Angela
Weekend Cooking

, hosted by Beth Fish Reads, is open to anyone who has any kind of food-related post to share: Book (novel, nonfiction) reviews, cookbook reviews, movie reviews, recipes, random thoughts, gadgets, quotations, beer, wine, photographs. If your post is even vaguely foodie, feel free to grab the button and link up anytime over the weekend.