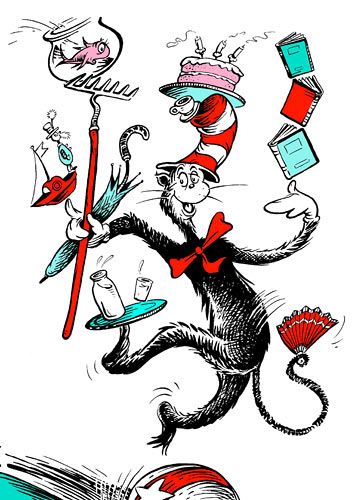 Dr. Seuss was born in Springfield, Massachusetts 108 years ago today. He was born Theodor Seuss Geisel. Here's a list of trivial bits about the author and illustrator who helped generations of children learn (and love) to read.
1.

He got caught drinking gin with some friends while in college at Dartmouth. His punishment was that he had to resign from his extracurricular activities, including his writing for humor magazine. He got around it by writing as Seuss (his Mom's maiden name). He added the "Dr." after college while working for The Judge.
2.

The actual German pronunciation of Seuss rhymes with voice, but the American pronunciation that rhymes with goose has stuck.
3.

He went on to earn his title of Dr. (in English Lit) at Lincoln College, Oxford. But...it's about a girl. He met Helen Palmer who he would marry in 1927. He returned to the US, sans degree.
4.

Helen suffered from chronic illness, including cancer and committed suicide in 1967.
5.

Audrey Stone Dimond would be his second and final wife.
6.

Geisel has never won neither the Caldecott nor the Newbery Medal.
7.

The Cat in the Hat is comprised of only 236 different words. I could list them all, but the folks at Seussville have listed them all in a handy, printable PDF.
8.

Geisel used the pen name Theo LeSieg for books that he wrote and others illustrated.
9.

LeSieg is Geisel spelled backwards.
10.

He wrote one book, Because a Little Bug Went Ka-Choo, using the pen name Rosetta Stone. He wrote this book with his friend Michael K. Frith who illustrated it. Geisel wasn't sure he wanted to put his name on it, so he had Frith come up with a pseudonym for him.
11.

The moral of the story: The Lorax (environmentalism and anti-consumerism); The Sneeches (racial equality); The Butter Battle Book (the arms race); Yertle the Turtle (Hitler and anti-consumerism); How the Grinch Stole Christmas (criticizes the materialism and consumerism of the Christmas season); Horton Hears a Who! (anti-isolation and internationalism).
12.

He wrote books for adults using the same style of verse and pictures: The Seven Lady Godivas; You're Only Old Once!; and his last book written a year before his death, Oh, the Places You'll Go!
13.

Curiously, Geisel had no biological children of his own. Helen was unable to bear children. He was a stepfather to Audrey's two daughters. When Dr. Seuss was asked how he could connect with children in spite of not having his own, he said, "You have 'em, and I'll entertain 'em."
And entertain 'em he did. And still does.
14.

The National Education Association's Read Across America Day is the nation's largest reading event, occurring each year on or near Dr. Seuss' birthday. This year it is on his birthday. Today. "You're never too old, too wacky, too wild, to pick up a book and read to a child."
Happy reading,
Angela