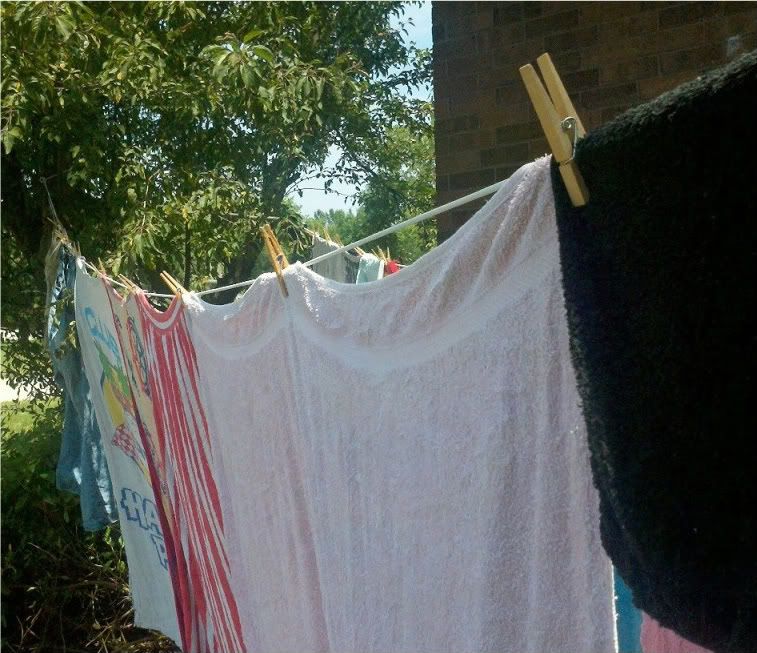 I've strung the clotheslines at the new place. There's something nostalgic about line-dried laundry, not to mention the incredible smell. Towels and linens are the best. There's almost a science to hanging out clothes - hang out too late, they won't dry; wait too long to take them off the line, they re-dampen from the dew; and forget about it if it's too humid. I really appreciate the energy savings of not running the dryer. My mom hangs out clothes even in the winter. I'm too much of a baby. But I hang out until it gets so cold that my hands freeze.
So, while pondering writing this post, I thought, "seriously, what on earth does this have to do with books?" Nothing. Other than the fact I don't have time to read any. Or scout for new ones for my shops. Or...absolutely NOTHING to do with books. But then again, I figured there has GOT to be a book written on the subject. There is, and it sounds pretty darn interesting.
The Clothesline is a nostalgic yet practical guide to a less complicated time, when women shared household secrets, recipes and remedies over the back fence. Filled with historic and contemporary photographs and illustrations, the book includes tips on creating a fun yet functional laundry room, information on laundry collectibles, hints for easy care of heirloom linens, and traditional wash-day recipes like lavender ironing water and verbena soap. Visit the Clothesline website for helpful tips, excerpts from the book, and author tour information.
Enjoy your day,
Angela