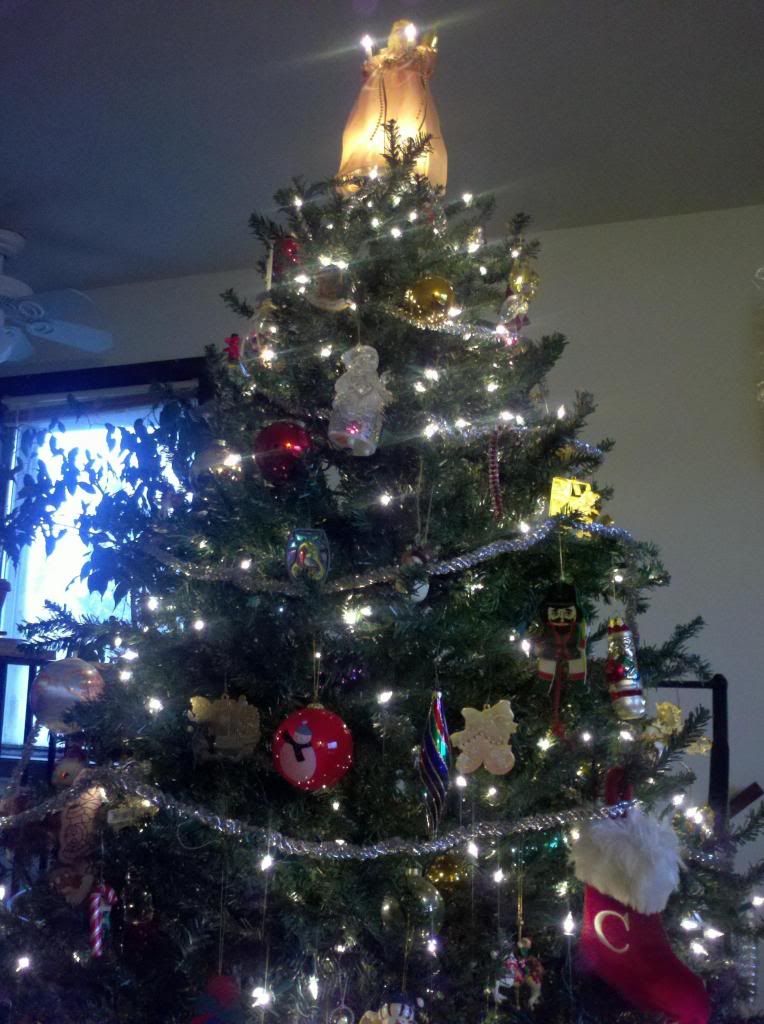 The hubs LOVES Christmas. The madness begins the day after Thanksgiving when he tunes all of the radio dials to the local station that begins playing 24/7 Christmas music.
He's meticulous with the tree lights and has passed the obsession on to the children. The Baby Girl can find the one burned-out bulb in a string of bazillion lights like nobody's business. The picture doesn't do his hard work justice.
While sitting here with the tree lit and looking at my mix and match ornaments, I smile. Hubby and I were married in January, and for my bridal shower the guests were asked to bring a Christmas ornament. Some are fragile glass and intricate, and some are whimsical and fun. I really love them all and think it was a terrific idea.
St. Nick has gotten the kids a new ornament every year since the year they were born. The styles varied depending on how broke "he" was. That is, every year until this year. St. Nick FORGOT THE STINKIN' ORNAMENTS!!! 22 years of remembering...
Anyway, here are some really cute bookish ornaments I found on etsy.
Set of 5 Handmade Book Page Snowflake Ornaments from
Bookalicious
.
Each ornament is made from a shatter-resistant ball, and features hand-cut snowflakes made of pages from a vintage copy of "Le Morte D'Arthur". As a result of cutting each snowflake by hand, the snowflakes are all unique, just as in nature. Each ornament is topped with a gold bow.

These jewel toned ornaments are a beautiful addition to any tree. They also make a wonderful gift for book lovers of all ages.
I love this little bitty vintage Night Before Christmas book available from
AppelJar
.
Hallmark Cards put this little mini book together in 1971. THE NIGHT BEFORE CHRISTMAS

Hardbound with a dust jacket - it has a nice red silky cloth ribbon tied through the center with a ribbon loop at the top, allowing you to hang this in the Christmas tree. Or not. The ribbon is tied on, but not attached. Many illustration, most in color.

So, hang it on the tree or let your big DOLL hold it - perfect size for dolls :)

The book says:
Hallmark Editions
The Night Before Christmas
by Clement C. Moore
This edition features reproductions of illustrations by Thomas Nast
Furnished by Brown University Library to whom grateful acknowledgement is given
1971 Hallmark Cards, Inc.
Kansas City, Missouri
Printed in the U.S.A.
Pride and Prejudice ornament from
inspirationsbyfaith
.
Beautiful clear glass ornament filled with dainty hand-cut and curled strips of the classic novel by Jane Austen, Pride and Prejudice. Ivory satin ribbon hanger is included to complete this lovely shabby chic ornament. Lighting causes the ornament to throw a lacy shadow, which is quite pretty. (Stand not included. Other sizes and sets available.)

Size: 2.75 x 2 inch bulb

Special book requests and custom orders are welcomed. Simply message me for details.

We are excited to share that this ornament was featured on the front page of the National Post's "Homes" section both in print and online. http://life.nationalpost.com/2011/11/25/novel-ideas/
FifthRealmPress
has a neat selection of these little book ornaments.
Just in time for the holiday season! Our new mini book ornament, A Visit From St. Nicholas or as it is more popularly know 'Twas The Night Before Christmas by Clement Clark Moore. This mini book is bound using the case binding method. Covered in red and gold cloth this book lends a festive old time Christmas feel. Securely fastened to the spine of the book is a lovely gold ribbon so you can hang this book on your Christmas tree. The book included artwork from the 1862 reprint of the poem. Measuring just 2 inches wide and 3 inches long this mini book can fit almost anywhere. Perfect for gifts and for stocking stuffers!

History:

A Visit From St. Nicholas (the original name) was first printed in the Sentinel magazine on December 23, 1823 anonymously. It was reprinted many times with no author name and then in 1844 Clement Clarke Moore claimed ownership and included the poem an anthology of his works. Later the poem was renamed the more familiar 'Twas the Night Before Christmas.
I love this upcycled Children Reading ornament from
GabbleHatch
. Absolutely adorable!
This one-of-a-kind handcrafted decorative ornament is upcycled from a vintage 1940's children's reader. It is made with the actual illustration from the original book (not a scan or a copy!) of a group of children discussing a book - an early book group, perhaps...?

This would make a great gift for a teacher or librarian, or for anyone who loves vintage illustrations!

The ornament is approx. 3" x 3" (7.5cm x 7.5cm), and includes a heavy, black steel wire for hanging. If you would like to set the ornament on a mantel, windowsill, table or other surface, you can simply bend the wire down behind the ornament (as shown in the second photo).

The illustration is carefully and securely mounted on a miniature canvas and finished with multiple coats of an acid-free sealant.
How about this for the comic book lover from
GothicGlassStudios
?
The Superman, Johnny Canuck, Nelvana, Captain Canuck stamps were issued by the Canadian Post Corporation in 1996 to celebrate the history of the greatest comic book heroes and the Golden-Age of Comics, starting with the 1938 debut of Superman.

One side of the glass pendant features Superman and the other side features Johnny Canuck.

These genuine canceled stamps have been delicately placed between two quality pieces of glass without using any adhesive so as not to ruin the value of the stamp for a future collector.

This 1.5 inch by 1.5 inch square, lightweight glass pendant is neatly hand-crafted using foil and solder.

This unique pendant can be easily attached to a cord and worn as a necklace or it can hang from your window, a car rear view mirror or as a tree ornament.

As with any fine jewelry, these pendants are best not exposed to or submerged in water or overly moist conditions. Clean only with a dry cloth.

Each jewelry piece comes decoratively packaged and ready for gift giving.
Keeping with the comic book superhero theme...Gosh these are cute! You can get these from the
CreativeButterflyXOX
shop.
The ornament is a hand painted wood peg doll, it has a little hook in it's heads with a string attached, all ready and set to hang on your Christmas tree, or wherever else you would like to hang them.

The prefect gift this year for any comic book fan!!!

HOW TO ORDER:

in the note to seller at checkout please provide me with the following information:

(1) Which one superhero would you like?

Please note if no preference is left for a superhero choice in the "note to seller" at checkout, then you will receive the same superheros as shown in listing photo number 1.


***Made to order - Please allow 5 to 10 business days to create + shipping time to your location****

****Please read my holiday deadlines for shipping before placing a holiday order needed in time for christmas, this can be found in my shop polices and my shop announcement.*****

>>Comes gift wrapped and shipped in bubble wrapped protected packaging with love and care.<<

Ornament set has been hand painted and sealed using non-toxic materials. The sealer is non-yellowing and is water resistant, with a light glass like shimmer (very pretty.)
Now leaving etsy to do some more window shopping...
Isn't this an adorable ornament of children reading? It's from
Zazzle
.
Again from
Zazzle
. Love it.
Man, I could do this all day. But I have to go for now. Thanks for window-shopping with me. Have you seen any terrifically bookish Christmas ornaments? Please share below with a link.
Talk to you soon,
Angela